Dealing BasicsEdit
Required Skillbook: Dealing, QUEST ONLY!!!!
Other Tools: None.
The skill is indeed a bargaining skill, as the name says. As you buy or sell something from/to a NPC you will automatically be asked, if you wish to bargain.
Here's an example, where I purchased a Healing Poition (small) for 30 gold.

Notice, that you can get a discount, but may also have to pay extra.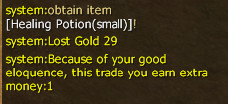 |

Furthermore, you don't get a skillpoint for every trade, but for every successful trade.
How to obtain the Skill book
Edit
To obtain the Dealing skill please take a look at these other wikia links
Leveling Table
Edit
| Skill Level | Discount % | Success Rate | Level Requiment to obtain | Proficiency Requirement to gain next level |
| --- | --- | --- | --- | --- |
| 1 | 2 - 5 | 52% | 10 | 80 |
| 2 | 2 - 5 | 54% | 10 | 210 |
| 3 | 2 - 5 | 56% | 14 | 620 |
| 4 | 5 - 10 | 58% | 18 | 1080 |
| 5 | 5 - 10 | 60% | 22 | 1610 |
| 6 | 5 - 10 | 62% | 26 | 2720 |
| 7 | 7 - 15 | 64% | 30 | 4880 |
| 8 | 7 - 15 | 66% | 34 | 6910 |
| 9 | | | 38 | |
| 10 | | | | |