Basic Skills of the DruidEdit

Law is but an illusion, a feeble attempt at maintaining control over the uncontrollable. Where is law when the land is overrun by unspeakable fiends? Where is it when our people are dragged from their beds by beasts? We, the Viridis, the druids, do not squander our time with such notions. We have but one court of appeal, one judge, one punishment: the one true form of justice: natural justice, Vengeance.


Drawing upon the energy of nature to sustain their power, the druid is able to employ a number of skills and techniques to wreak havoc upon the enemy and assist their allies. Whilst it is later possible for the druid to commune with the spirits as a Shapeshifter or to harness the Summoner's powers of healing and conjuring, a novice druid possesses the following skills:
Tornado: The druid summons a mighty tornado and hurls it at their foe.
Amplify Magic: By focusing their power upon an ally, they are capable of enhancing the magical damage that they inflict upon the enemy.
Heal: Wounds are healed as the druid channels restorative energies upon themselves or their companions.
Holy Light: Summoning natural spirits around themselves, the druid imbues an ally with supernatural strength, allowing them to cause increased physical and magical damage.

The druids are a furious and at times uncontrollable arm of the Viridi race whose sole purpose is to defeat their enemies and thus return to the land the natural balance of life and death.
SpecializationEdit
The reaching of level 15 is a crossroad in the life of a Druid; one must decide to either focus on the powers of healing and the summoning of minions, or to train the ability to turn oneself into a fierce creature and step directly into the fray.
A visit to the Class Trainer is in order and the decision must be made as to which of the two specializations the Viridi-Druid wishes to follow.
Required Levels:
Tier 1 - Lv.1
Tier 2 - Lv.15
Tier 3 - Lv.30
Tier 4 - Lv.50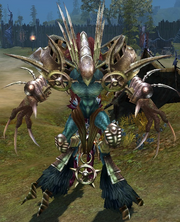 IllusionistEdit
SpiritwalkerEdit
Life GuardianEdit
Soul PunisherEdit