[Side] Test of the Team Leader
Edit
Description
Edit
Captain of the Escort Team-Manen needs you to prove your strength. First, go kill some Raid Beast.
Looks like you are qualified to take over this quest. You are responsible for the shipment!
Level 6 Belt
Gold: 60
Experience: 160
Prestige: 20
Description
Edit
Level Rating: 6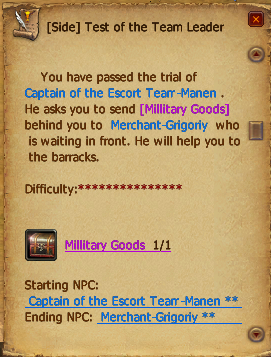 You have passed the trail of
Captain of the Escort Team-Manen
. He asks you to send
Military Goods
behind you to
Merchant-Grigorly
who is waiting in front. He will help you to the barracks.
Description
Edit
Merchant-Grigorly / Merchant-Clark asks you to use Churkey to deliver the goods to General Sax. Hurry up. Don't waste time.
(Click Churkey to start the conversation. Click to use Churkey. The Churkey will follow you automatically when it appears. If the distance between you and the Churkey is too long. It will stand still and you have to go closer to make it walk.)
The supplies finally came. The army won't have to worry about it anymore!
Level 7 Shoulderpads
Gold: 80
Experience: 240
Knowledge: 40
Prestige: 20
Questline
Edit